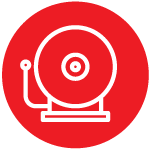 Complete Fire Alarm Systems
When it comes to fire safety, shortcuts are never an option. At Allegiant, we provide a complete fire alarm system service:
Survey. We examine your space and evaluate your fire safety needs.
Design. Each situation is unique. We design an effective fire alarm system tailored to your space.
Supply. We provide the proper technology.
Full install of your new fire alarm system.
Training. We will train every member of your staff on correct usage and how to reduce false alarms.
Service and maintenance. We offer routine checks and maintenance to make sure your fire alarm system will always protect you and your business.
Because we work with a variety of technologies, we can meet the needs of any project.
Alarm System Design and Installation
We partner with engineers, electricians, contractors, and end-users to design a fire alarm system that works for you.
We are dedicated to furthering the education of our NICET-certified technicians so that they remain capable of installing any fire alarm system. Before we sign off on a project, we thoroughly test each component and train your team in the operation of your system.
In addition, we work closely with the authority having jurisdiction (AHJ) to ensure your system's compliance and approval.
Fire Alarm Updates, Repairs, and Maintenance
Even the best systems need maintenance and service. That's why we are on-call 24/7, 365 days per year.
As experienced fire alarm contractors, we understand the need for efficiency. Our service trucks are fully stocked to ensure that repairs are made quickly, without multiple trips to your business.
We understand how disruptive a malfunctioning alarm system can be. In an emergency, we dispatch our service technicians to your location immediately.
Allegiant Fire
In non-emergency situations, we provide an initial quotation and complete fire alarm repairs at your convenience. To get a quote regarding our range of fire alarm services, please fill out our contact form or call us at (630) 506-5535 to speak with a fire alarm design and installation team member.