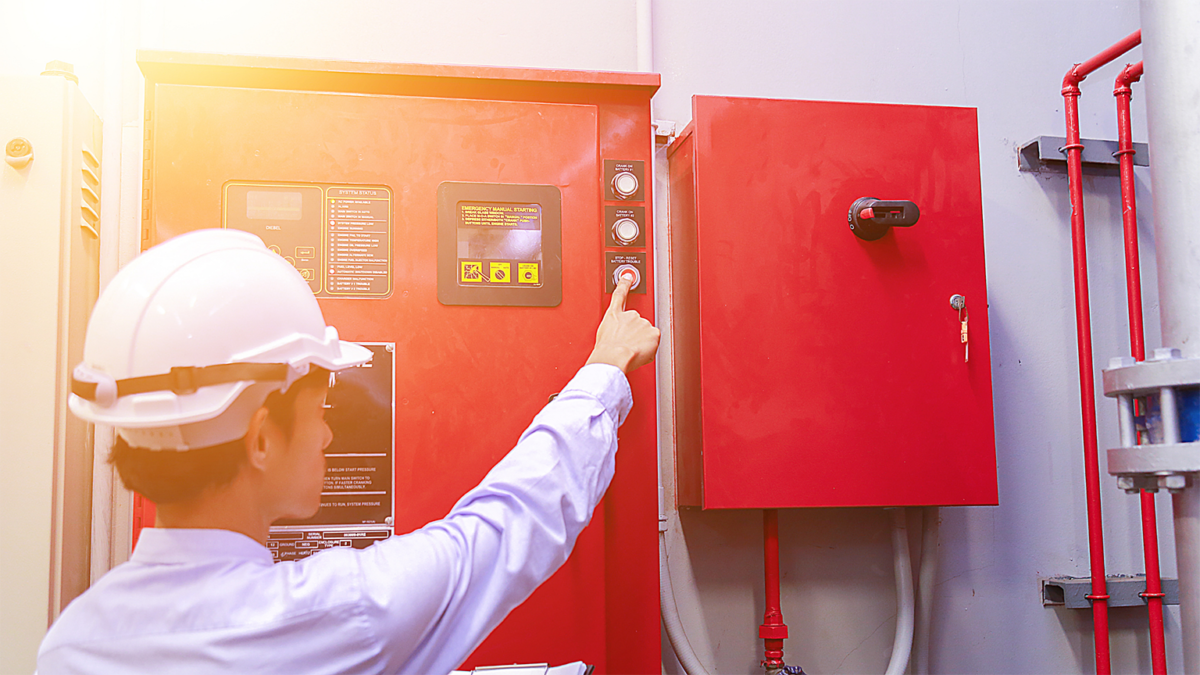 Updated August 2021
Are you ready for your annual fire inspection? More likely than not, as a business owner, you are probably stressed at the prospect of a conflict with the fire marshal, but there are steps you can take to better prepare for your business's inspection.
The professionals at Allegiant Fire Protection know that an impending fire inspection can feel daunting to business owners, which is why we've created this guide for complying with your annual fire inspection requirements.
Do Your Research
First and foremost, it's important to remember ​why​ the fire department is coming to inspect your business: to make sure there are no safety hazards in your building. Knowing the purpose of the inspection is vital to preparation. After all, your goal in passing the inspection is to mitigate potential hazards, and we recommend keeping this in mind while you prepare your business for inspection.
Fire inspection requirements vary from city to city and state to state. Depending on where your business is located, the frequency, inspection type and procedural steps will likely differ. Make sure you check your jurisdiction's specific requirements (usually on the fire department's website, or with a quick call to the fire marshal) so there are no surprises. 
You'll also want to make sure you have a good understanding of your jurisdiction's codes, since the inspection will be geared towards bringing your business "up to code." This way, you can remedy a problem before it becomes costly. For example, if you know that you don't have the proper fire alarm, you can fix this issue before ​the fire inspector comes and avoid the extra red tape and a potential fine.
Play Inspector
After reviewing the fire codes and requirements for your business's jurisdiction, you'll want to complete a brief inspection of things your fire inspector will look for, such as:
1. Access and Premises
Building address should be visible from the street
Make sure exterior entrances are clear
Fire hydrants should be accessible and visible
2. Means of Egress
Make sure exit doors are visible, accessible and functional
Exit doors should open easily from the inside without a key or any special instructions
All required fire doors should be self-closing
3. Electrical
Make sure circuits are labelled on control panels
Electrical panels need at least 30 inches of clear space in front of them for better access
All extension cords must be in good condition, used only for small devices and grounded
Extension cords must only be used for temporary power
Cover plates need to be installed on all electrical receptacles
4. Egress Lighting
All exit routes should be properly illuminated while the building is occupied
Double check to make sure emergency lighting units are operable and sufficient to light means of egress
All exit signs should be illuminated and their back-up batteries should be tested to ensure functionality
5. Fire Extinguishers
As a guideline, fire extinguishers should be installed within 75 feet of all areas of the building, and they should be visible and accessible
Make sure extinguishers meet the minimum rating and are properly installed at the correct height on the wall (no more than five feet above the floor)
Extinguishers should have been inspected within the last twelve months and tagged by an approved agency
6. Fire Alarm and Sprinkler Systems
Make sure you are completing an annual fire alarm test and can provide documentation of completion
Check the height of storage below fire sprinklers (needs to be at least 18 inches below the sprinklers)
Similar to alarms, the fire sprinkler system needs to be checked annually, and you should keep records of completion for this and other fire suppression systems as well
7. Appliances and Devices
If your building uses portable heaters, there needs to be at least 36 inches of clear space on all sides of each heater
Gas-fired heat-producing appliances need properly installed and maintained vents
8. Building Areas
Make sure you are removing all trash from the building each day so it doesn't accumulate
Oily or greasy rags need to be stored in approved metal containers
All combustible materials must be stored away from entrance and exit ways and in an orderly fashion
Combustible decorations should be treated and coated appropriately
Make sure interior finishes meet code requirements
All compressed gas tanks must be secured to prevent them from tipping over
9. Smoke and Carbon-Monoxide Alarms
Ensure that smoke detectors are operating correctly with batteries that work
Check that carbon-monoxide alarms are functional
At Allegiant Fire Protection, we know fire inspections can bring stress and dread to a business owner's life, especially if the inspector turns up unannounced. With a little bit of preparation, you can help the annual inspection go as smoothly as possible. Make sure you are ready and forthcoming with prior inspection reports for your business's building and equipment. As long as you express a commitment to fire safety and work positively with the fire department, your fire inspection will undoubtedly be a success.

Allegiant Fire Protection LLC, delivers exceptional fire protection services to businesses throughout the greater Chicago area. Services include the design, installation and service of fire alarm systems, as well as offsite alarm monitoring. The firm's NICET-certified technicians also inspect and test all fire protection systems. Allegiant Fire Protection is a privately held firm located in Aurora, IL. For more information about our services click here or call 630-506-5535.