Summer holidays are officially here and, after a year of quarantining and social distancing, Americans everywhere are ready to celebrate. This year, celebrations across the country are sure to be bigger and better than ever.
But with bigger, better celebrations comes a higher risk of injury, especially in situations involving fireworks. While some are lucky enough to sustain just a minor burn, others see trips to the emergency room involving eye injuries, sparkler burns, and more.
As fire safety experts, this is a big concern for us. So of course we wanted to know: Which states see the most firework injuries?
States with the Most Firework Injuries
To find out, we analyzed Google search trends nationwide to determine where fireworks- and burn-related searches like "burnt finger on sparkler" and "burnt hand firework" increase the most during the summer months.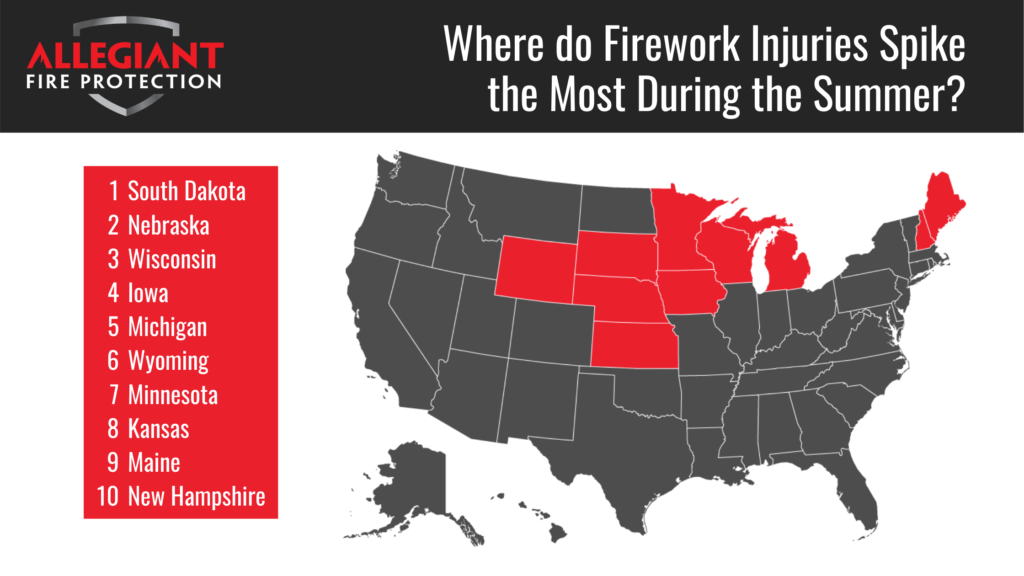 Midwestern states took every spot in the top five, with South Dakota coming in at number one. On average, residents searched for burn-related terms just over 2,600 times each month in 2020, but that number increased 26% to 3,306 in June, July, and August.
Nebraska took the second spot, with the average number of burn-related searches increasing by 23.65%. It was followed by Wisconsin (21.62%), Iowa (21.41%), and Michigan (21.02%).
Hawaii sees the least amount of firework-related injuries, with just a 5% increase during the summer months. It was followed by Alaska (6%), Louisiana (8.29%), Mississippi (8.43%), and, surprisingly, Florida. The Sunshine State saw just a 10% increase in searches during the summer months.
Which states spend the most on fireworks
In conducting our research, we learned that the fireworks industry is a multi-billion dollar one, poised to grow to a staggering $2.8 billion by 2025.
Between January 2020 and March 2021, the value of fireworks imported by America was over $400,000,000 or $1,232 per 1,000 residents.
We wanted to know which states are importing the most fireworks, so we analyzed US trade census data to find out. Nationwide, states have spent an average of $8.6 million on fireworks in the last year ($1,784 per 1,000 residents).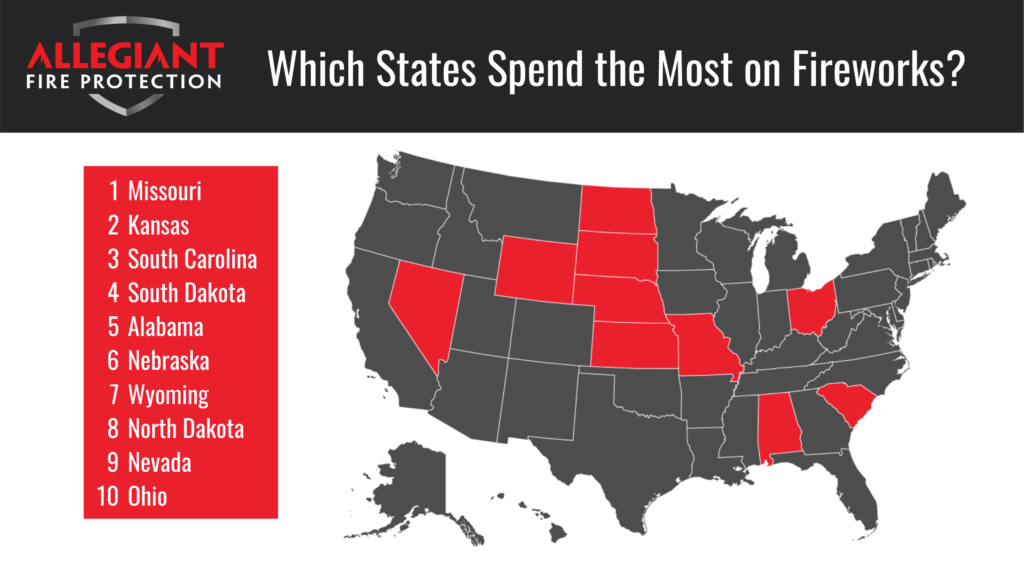 To avoid the size of a state affecting its ranking, we took populations into account to determine which states spent the most per 1,000 residents.
Missouri spent the most, and its total comes in well above the national average. Between January 2020 and March 2021, the state spent $71.4 million on fireworks – that's $11,706 per 1,000 residents.
Kansas spent a pretty penny as well, earning it the number two spot: $20.5 million between January 2020 and March 2021. That's just over $7,000 per 1,000 residents.
South Carolina ($6,474 per 1,000 residents), South Dakota ($6,249 per 1,000 residents), and Alabama ($5,680 per 1,000 residents) took the final top spots.
Have fun when you celebrate this summer, but remember to stay safe, especially with fireworks. Here are some of our favorite tips for firework safety from the National Safety Council:
Never allow young children to handle fireworks
Never use fireworks while under the influence
Only use fireworks away from people, houses, and flammable material
Never point or throw fireworks at another person
Keep a bucket of water nearby to extinguish fireworks that don't go off fully
Methodology:
To determine which states see the most significant increase in burn-related searches, we analyzed Google search trends for January through December 2020. We then averaged the monthly number of monthly searches and calculated the difference between it and the average amount of searches in June, July, and August.
For state import values, we analyzed the total value of fireworks imported to every state using the US Census Bureau's USA Trade Online. We then calculated the import value per resident by using US Census Bureau population estimates.
For media inquiries, contact kylie@theloopcommunications.com.
Fair Use
Feel free to use this data and research with proper attribution linking to this study. When you do, please give credit and link to https://allegiantfire.net/.