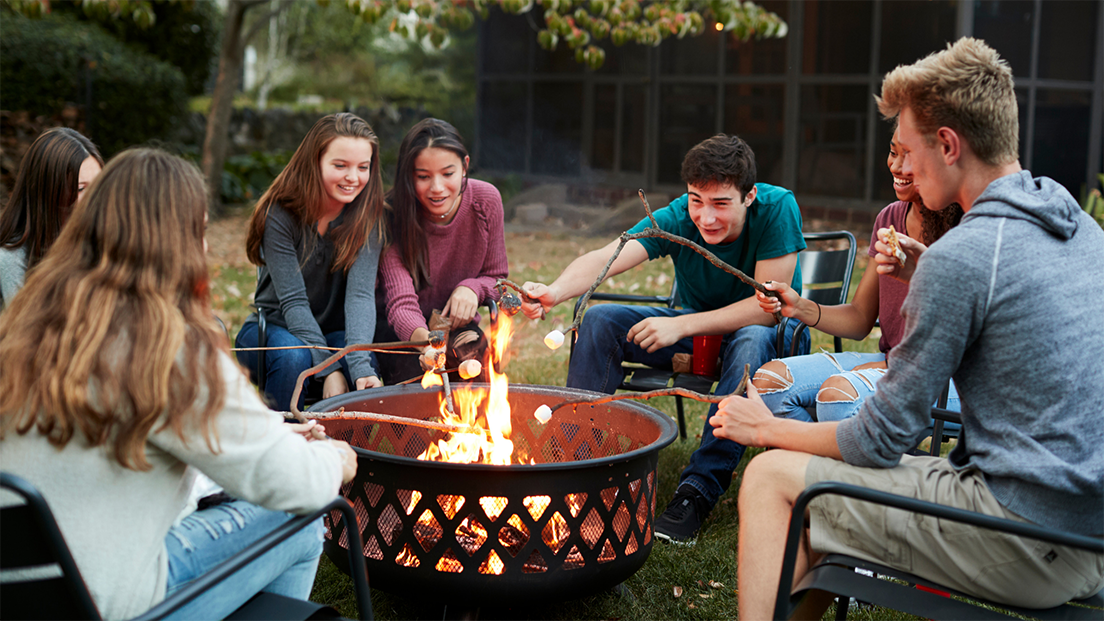 As fall rolls in, so does the desire to sit around a fire, get cozy, and roast marshmallows. It's important to make sure that you and your guests are safe around the fire no matter the occasion or activity.
Fire pits are a great addition to your backyard setup in any social gathering. They are beautiful, exciting, and bring people together. However, they can also be extremely dangerous if the necessary precautions aren't followed.
We've compiled a list of our most important dos and don'ts when it comes to your backyard fire pit safety.
DO consider placement
When setting up your fire pit, you should always give your location some thought. If your fire pit is on an uneven surface, close to the house or building, or otherwise sheltered, you're putting yourself at risk of starting a fire.
Keep chairs away, too. If you sit too close, you could easily end up with a burn. Additionally, if the wind carries a flame close to your chair, it may catch fire if it's not at a safe distance from the pit.
DON'T leave your fire pit unattended
Treat your fire pit like what it is – a potential for extreme danger if left unattended. Children or animals can more easily encounter the flames or heat of the pit if there is nobody around. Also, flames or sparks that escape can have more time to build into a serious problem.
If you know your fire will burn unattended for extended periods of time, don't start it up. Fire pits should only be used when there are people around to monitor its flames.
DO have a method of extinguishing the fire
When it comes time to head back inside, you'll need to put out your fire pit. Whether your fire pit uses gas or wood, keep water and a shovel nearby, as these two can quickly and effectively put out a fire in an emergency. It never hurts to have a fire extinguisher on hand as well.
DON'T use inappropriate burning materials
Depending whether you have a wood-burning or gas fire pit, you'll want to use different materials. When it comes to wood-burning fire pits, it's best to use kindling logs or old wood. Anything chemically treated may trigger sparks and give off toxic fumes.
For gas fire pits, pay close attention to what your pit needs. Most gas fire pits run on propane, but others will require different fuels, so it's important to make sure you are using the right fuel.
DO plan for the weather
If it's an especially windy day, it may be a good idea to hold off on lighting your fire pit. The wind can push the flames in whatever direction it's blowing in, which means that you could find the fire spreading to a nearby bush, structure, or even a person. Plan ahead.
Take droughts and no burn advisories into consideration as well. These conditions can make your fire pit dangerous not only for yourself, but for your community at large.
Fire pits aren't fun if the weather is bad, so it really is better to wait for the right day.
DON'T make safety an afterthought
Following these tips can help prevent an accident at the hands of your fire pit, but some accidents are unavoidable. Keep fire safety supplies nearby, whether they be in the building or on your person. Fire extinguishers, gloves, and fire blankets can be the difference between life and death.
At Allegiant Fire Protection, we take your safety seriously. Our fire protection experts are ready to answer your questions about fire preparedness 24/7.
Contact us today to discuss your fire safety needs.